Regular price
$348.00 SGD
Regular price
Sale price
$348.00 SGD
Unit price
per
Sale
Sold out
【SHINSO】
 "SINSO SKIN CARE", the highest quality of aging care cosmetics that is featured worldwide.
Unique antiaging care ingredients which are newly researched and developed
Power of SSE (Shinso Synergy Effect)
1. 
Nobel Prize-winning invention Fullerene, an 
antioxidant beauty ingredient
2. 
Nobel Prize-winning invention EGF, 
a cell-producing component
3. 
Deep sea water in Japan More than 60 kinds of deep mineral water
4. 
Reduces peroxidative cortex Antioxidant SOD enzyme
5. 
Natural ingredients from Japan, Original blends of 70 kinds of natural herb 
extracts
What is fullerene?
A soccer ball-shaped substance that has the same carbon allotrope as a diamond and 60 carbon elements. It is said to have a beautifying and anti-aging effect on the skin through the action of active oxygen removal.
It has an antioxidant effect that is 100 times stronger than vitamin C, a collagen production effect that is 800 times stronger than that of the placenta, and a skin beautifying effect and barrier function enhancement.
Effect
From the Sea of Japan, the unique Shinso Mist formula uses the purest waters combined with more than 30 natural elements and rare botanicals to deliver a gentle, high-tech misting spray that works on a microcellular level. It instantly hydrates, energizes and lifts the skin without clogging oils.
Shinso Mist also contains extremely rare Fullerene molecules and EGF(Epidermal Growth Factor), both Nobel Prize-winning discoveries. The EGF is highly effective in increasing skin cell regeneration causing damaged skin cells to be regenerated to a younger version of themselves.
This high-tech nourishment for your skin can be as close as your purse, with Shinso Mist's convenient-sized spray bottle. In seconds you can refresh your skin anytime, anywhere, with many of the same powerful, premium ingredients contained in ShinsoEssence.

How to use
Spray 10 to 15 cm away from the face and neck, close your eyes, and spray 2 to 3 times. It is a guideline that you can feel the effect by pushing 5-6 times on the entire face. Please adjust the usage according to your preference. Then lightly start patting your face using the palm of your hands.
It is effective to massage with your fingertips until the active ingredient is absorbed as well.
Since it is easy to penetrate, it can be used not only after washing the face but also over the makeup skin.
It can be used not only on the face but also on the décolleté, neck and whole body.
Be careful not to get it in your eyes.

Ingredients
Water, Butylene Glycol, Oentylene Glycol, Fullerenes, SH-Oligopeptide-1, Hexaoeotide-10, Soluble vollagen, Bentonite, Rose canina fruit extract, sea water, PVP, citrus grandis(grapefruit)peel oil, honey, sericin, hydrolyzed silk, litchi chinensis seed extract, vhamomilla recutita(matricaria)flower extract, citrus junos seed extract, mannitol, pyrus malus(apple)fruitextract, thymus vulgaris(thyme)extract, natto gum, Pueraria lobataroot extract, chlorella vulgaris extract, aloe barbadensis leaf extract, phenoxyethanol, citric acid, sodium citrate, PEG-60 hydrogenated castor extract.
【SHINSO】
'美の露出"を必要とする多くのハリウッド俳優やメイクアップアーティスト、美容外科医等から愛される、世界から注目されるエイジングケア化粧品の最高峰"SHINSO SKIN CARE"
アメリカ、英国の美容外科クリニックおよび、5星ホテル、5星スパ、海外の高級デパートで使用されている信頼と安心の商品です。
5つのアプローチから生まれるSSE(シナジーエフェクト)のパワー、絶妙な配合バランスにより新たに研究開発された独自のエイジングケア成分。
SSE(シナジーパーフェクト)のパワー
ビタミンCの100倍を超える抗酸化力、プラセンタの800倍ものコラーゲン
シミ・くすみ・ニキビ跡・色素沈着を改善する細胞産生成分
肌をフリーラジカルの損傷から保護
高い抗酸化作用と治癒持性
ハーブブレンドが、ハリとツヤのある肌を実現
※フラーレンとは
ダイヤモンドと同じ炭素同素体で、炭素元素60個が対象に配置された球場(サッカーボール状)物質。活性酸素などを除去する作用により、美肌効果や肌の老化防止効果があるとされています。
ビタミンCの100倍を超える抗酸化作用、プラセンタの800倍も強力なコラーゲン生成促進作用の他、美肌作用やバリア機能強化などの美容効果があります。
 
効果
SHINSO Mistは、特殊なペプチド成分(潤いを与え、ハリと弾力に満ちた活力肌へ導きます)を配合しました。年齢を重ねると、肌の表皮細胞間の接着力は減少し、弾力性が低下していきます。この特殊なペプチド成分によって、肌を滑らかにし、ハリを与えます。
特殊技術で処理した深層水と美容成分のハーモニーが角質を宇深く浸透し、肌にハリと潤いを与えます。洗顔後、メイクの前後、いつでもどこでも手軽に使える特別なミストタイプの美容液です。

使用方法
顔や首から10~15㎝程度離して目を閉じ、2~3回スプレーします。顔全体で5~6回プッシュが効果を実感できる目安です。お客様の好みによって使用料はご調整ください。その後、手のひらで軽く馴染ませます。
有効成分が吸収されるまで指先でマッサージしたり、顔全体に軽くパッティングしたりすると効果的です。
粒子が細かく浸透しやすいため洗顔後はもちろん、お化粧品の上からでもご使用いただけます。
顔だけでなくデコルテや首、全身にもご使用いただけます。目に入らないようご注意ください。

成分
水、ブチレングリコール、オエンチレングリコール、フラーレン、
合成ヒト遺伝子組換オリゴペプチド、ヘキサオチド10、加水分解コラーゲン、ベントナイト、イヌバラフルーツエキス、海水、PVP、柑橘類グランディス(グレープフルーツ)の皮油、蜂蜜、セリシン、加水分解シルク、 ライチ種子エキス、カミツレ花エキス、ユズ種子エキス、マンニトール、リンゴ果実エキス、タチジャコウソウ(タイム)抽出物、納豆ガム、プエラリア・ロバタルート抽出物、クロレラエキス、アロエ・バルバデンシス葉抽出物、 フェノキシエタノール、クエン酸、クエン酸ナトリウム、PEG-60水素化ヒマシエキス
"SHINSO SKIN CARE",是全球最优质的抗老护肤品。
最新研发的独特抗衰老护理成分。
SSE的力量(Shinso Synergy Effect)
诺贝尔奖得主富勒烯,抗氧化美容成分
诺贝尔奖获得者发明EGF,细胞生成成分
日本深海水域60多种深海矿泉水
减少过氧化皮层抗氧化酶SOD
来自日本的天然成分,70种天然草本提取物的原始混合物
什么是富勒烯?
一种足球状物质,具有与钻石相同的碳同素异形体和60种碳元素。据说它通过活性氧清除作用对皮肤具有美容和抗衰老作用。
它的抗氧化作用是维生素C的100倍,胶原蛋白生成作用是胎盘的800倍,具有美容皮肤和增强屏障功能。
效果:
来自日本海的独特Shinso Mist配方使用最纯净的水,结合30多种天然元素和稀有植物,提供温和的高科技喷雾,在微细胞水平上发挥作用。它能迅速补充水分,激发活力,提升肌肤,而不会堵塞油脂。
Shinso Mist还含有极为罕见的富勒烯分子和EGF(表皮生长因子),这两种物质都是诺贝尔奖获得者的发现。表皮生长因子在促进皮肤细胞再生方面非常有效,使受损的皮肤细胞再生为年轻的皮肤细胞。
Shinso Mist大小方便携带的喷雾瓶,这种高科技的皮肤营养剂可以像钱包一样随时在您的身边。拥有许多与Shinso Essence相同的强大和优质的成分,您可以在几秒钟内随时随地让您的皮肤感到清新。
使用方法: 
喷雾距离面部和颈部10-15厘米,闭上眼睛,喷2-3次。这是一个指导原则,您可以通过在整个面部按压5-6次来感受效果。请根据您的喜好调整用法。然后用手掌轻轻拍拍您的脸。

用指尖按摩,直到活性成分也被吸收,这是有效的。

因为它很容易渗透,所以不仅可以在洗脸后使用,也可以在化妆皮肤上使用。

它不仅可以用于面部,还可以用于夹头、颈部和全身。

小心别让它进入您的眼睛。
成分:
水、丁二醇、戊二醇、富勒烯、SH-寡肽-1、六烯酸-10、可溶性vollagen、膨润土、犬蔷薇果实提取物、海水、PVP、柚子皮油、蜂蜜、丝胶、水解蚕丝、荔枝籽提取物、苦参花提取物、柑橘籽提取物、甘露醇、苹果梨果实提取物、,普通百里香提取物、纳豆胶、葛根提取物、小球藻提取物、芦荟叶提取物、苯氧乙醇、柠檬酸、柠檬酸钠、PEG-60氢化蓖麻提取物
View full details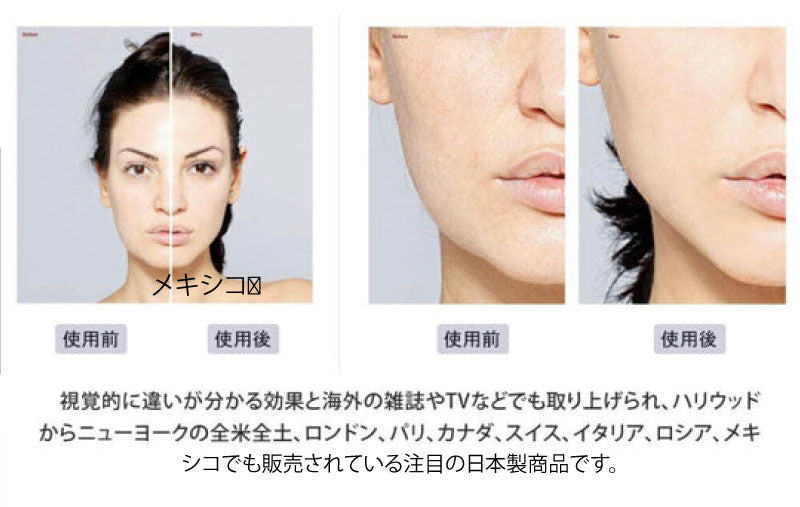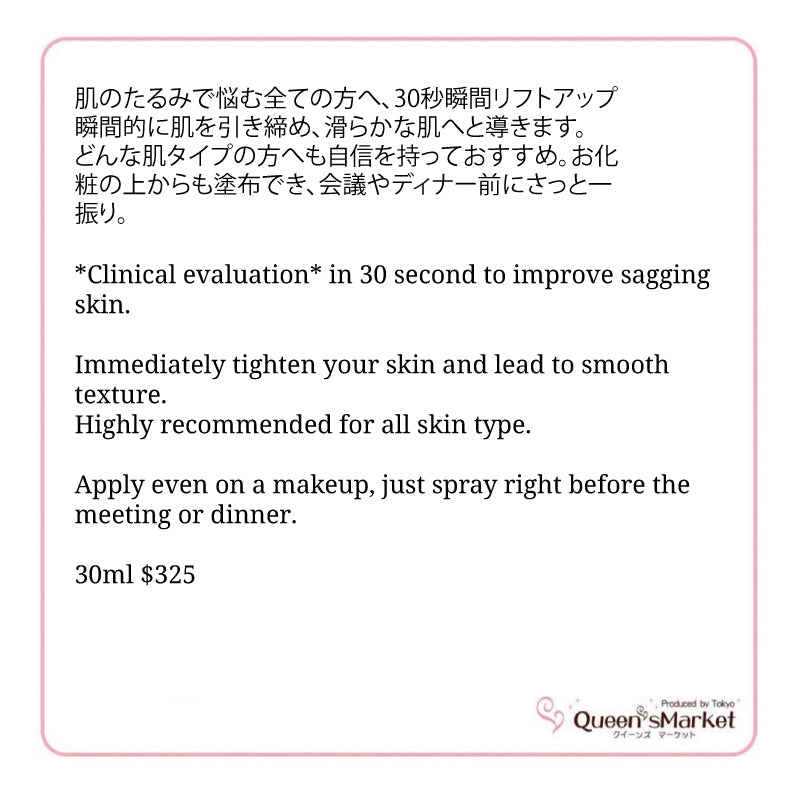 No hard selling at all! Will definite recommend!
The staff there are very professional and friendly. Definitely no hard selling of products. Highly recommended!