Regular price
$219.83 USD
Regular price
Sale price
$219.83 USD
Unit price
per
Sale
Sold out
【SHINSO】
 "SINSO SKIN CARE", the highest quality of aging care cosmetics that is featured worldwide.
Unique antiaging care ingredients which are newly researched and developed
Power of SSE (Shinso Synergy Effect)
1. 
Nobel Prize-winning invention Fullerene, an 
antioxidant beauty ingredient
2. 
Nobel Prize-winning invention EGF, 
a cell-producing component
3. 
Deep sea water in Japan More than 60 kinds of deep mineral water
4. 
Reduces peroxidative cortex Antioxidant SOD enzyme
5. 
Natural ingredients from Japan, Original blends of 70 kinds of natural herb 
extracts
What is fullerene?
A soccer ball-shaped substance that has the same carbon allotrope as a diamond and 60 carbon elements. It is said to have a beautifying and anti-aging effect on the skin through the action of active oxygen removal.
It has an antioxidant effect that is 100 times stronger than vitamin C, a collagen production effect that is 800 times stronger than that of the placenta, and a skin beautifying effect and barrier function enhancement.

Effect
Shinso Glow has a combination of ingredients that exfoliate and rejuvenate the skin. Glow leaves skin refreshed and glowing.
Shinso Glow instantly gives your face a lift and removes dead skin cells, allowing for better penetration of serums and moisturizers. Skin appears smoother and brighter.
Shinso Glow gently and effectively removes old and dead skin cells. It generates turnover and prevents skin problems. Shinso Glow will complement any facial regime. Moisturizers and serums have better and deeper penetration when your old skin cells are removed. With regular use of Glow, your skin will be healthy, smooth and glowing.

How to use
Apply an appropriate amount of glow to entire the face after cleansed and drying up the skin.
Leave it for a few seconds and wait for it to react with the old keratin.
While gently pressing with your finger pad, massage it by making a small circle for about 30 seconds especially focusing on the area you feel the roughness.
It gently removes old dead skin cells on the skin's surface.
After massaging, rinse thoroughly with water.
It can be used on elbows, knees, and neck.
Be careful not to get it in your eyes.

Ingredients
Water, Glyceryn, Sea Water, Fullernes, Citrus Grandis (grapefruit) Fruit extract, Hypericum Perfortum Flower Extract, Chamomilla Recutita (Matricaria) Flower Extraxt, Tilia Cordata Flower Extract, Calendula Officinalis Flower Extract, Centaurea Cyanus Flower Extract, Anthemis Noble Flower Extract, Pyrus Malus (apple) Fruit Extract, Crataegus Vuneata Fruit Extract, Zizphus Jujuba Fruit Extract, Citrus Aurantifolia (Lime) juice, Citrus Medica Limonum (Lemon) juice, Pectin, Rose Canina Fruit Extract, Butykene Glycol, PVP.
【SHINSO】
'美の露出"を必要とする多くのハリウッド俳優やメイクアップアーティスト、美容外科医等から愛される、世界から注目されるエイジングケア化粧品の最高峰"SHINSO SKIN CARE"
アメリカ、英国の美容外科クリニックおよび、5星ホテル、5星スパ、海外の高級デパートで使用されている信頼と安心の商品です。
5つのアプローチから生まれるSSE(シナジーエフェクト)のパワー、絶妙な配合バランスにより新たに研究開発された独自のエイジングケア成分。
SSE(シナジーパーフェクト)のパワー
ビタミンCの100倍を超える抗酸化力、プラセンタの800倍ものコラーゲン
シミ・くすみ・ニキビ跡・色素沈着を改善する細胞産生成分
肌をフリーラジカルの損傷から保護
高い抗酸化作用と治癒持性
※フラーレンとは
ダイヤモンドと同じ炭素同素体で、炭素元素60個が対象に配置された球場(サッカーボール状)物質。活性酸素などを除去する作用により、美肌効果や肌の老化防止効果があるとされています。
ビタミンCの100倍を超える抗酸化作用、プラセンタの800倍も強力なコラーゲン生成促進作用の他、美肌作用やバリア機能強化などの美容効果があります。

効果
SHINSO Glowは、天然果実エキスとSOD(スーパーオキシドジスムターゼ)の酵素によって、肌表面の不要な古い角質を落としながら美容成分を補充。肌のごわつき・くすみ・テカリ・毛穴詰まりを解消してターンオーバーを整いやすくします。
「SSE-G(SHINSOシナジーエフェクト-G)」を配合。肌に塗り、くるくると優しくマッサージするだけで古い角質を除去します。肌を気づ付けることなく優しくピーリングすることで、つるつると滑らかで透明感のある肌へと導きます。

使用方法
洗顔後、しっかり乾かします。
グロウを指の腹に適量取り、すぐに気になる部分に塗ります。
そのまま数秒間おき古い角質に反応するのを待ちます。
指の腹で軽く押しながら30秒ほど小さな円を描くようにくるくるとマッサージします。
肌表面の古い角質をやさしく除去していきます。
マッサージ後、水できれいに洗い流します。
そして滑らかに整えた肌へいつも通りの保湿をしてください。
肘や膝、首など顔以外にもご使用いただけます。目に入らないようにご注意ください。

成分
水、グリセリン、海水、フラーレン、グレープフルーツ果実エキス、オセイヨウオトギリエキス、カミツレ花エキス、フユボダイジュ花エキス、トウキンセンカ花エキス、ヤグルマギク花エキス、ローマカミツレ花エキス、リンゴ果実抽出物、サンザシ果実抽出物、ナツメ果実抽出物、ライムジュース、レモン果皮油ジュース、ペクチン、イヌバラ果実抽出物、ブチレングリコール、PVP
"SHINSO SKIN CARE",是全球最优质的老年护理化妆品。
最新研发的独特抗衰老护理成分
SSE的力量(Shinso Synergy Effect)
诺贝尔奖得主富勒烯,抗氧化美容成分

诺贝尔奖获得者发明

EGF

,细胞生成成分

日本深海水域

60

多种深海矿泉水

减少过氧化皮层抗氧化酶

SOD

来自日本的天然成分,

70

种天然草本提取物的原始混合物
什么是富勒烯?
一种足球状物质,具有与钻石相同的碳同素异形体和60种碳元素。据说它通过活性氧清除作用对皮肤具有美容和抗衰老作用。
它的抗氧化作用是维生素C的100倍,胶原蛋白生成作用是胎盘的800倍,具有美容皮肤和增强屏障功能。
效果:
Shinso Glow是多种成分的组合,可去除角质并使皮肤恢复活力, 并使肌肤焕发光彩。
Shinso Glow能迅速提升面部,去除死皮细胞,让精华液和保湿霜更好渗透。皮肤看起来更光滑、更明亮。
Shinso Glow温和有效地去除老化和死皮细胞。它帮助皮肤更新,防止皮肤问题。Shinso Glow将补充任何面部护理。当您的旧皮肤细胞被去除时,润肤霜和精华液能更好更深入的渗透。定期使用,您的皮肤将健康、光滑、并容光焕发。
如何使用:
清洁皮肤后,在整个抹干的脸上涂抹适量的Shinso Glow。
静置几秒钟,使其与旧角质产生反应。
用指垫轻轻按摩,做30秒左右的圆周运动。特别关注感觉粗糙的皮肤部位。
它能温和地去除皮肤表面的老死皮细胞。
按摩后,用水彻底冲洗。
它也可以用于肘部、膝盖和颈部。
小心别让它流入您的眼睛。
成分:
水、甘油、海水、富勒烯、柚子果实提取物、贯叶连翘花提取物、洋甘菊花提取物、紫椴花提取物、金盏花提取物、矢车菊花提取物、国菊花提取物、苹果果提取物、山楂果提取物、酸枣果提取物、,橙汁,柠檬汁,果胶,玫瑰果提取物,丁二醇,聚维酮。
View full details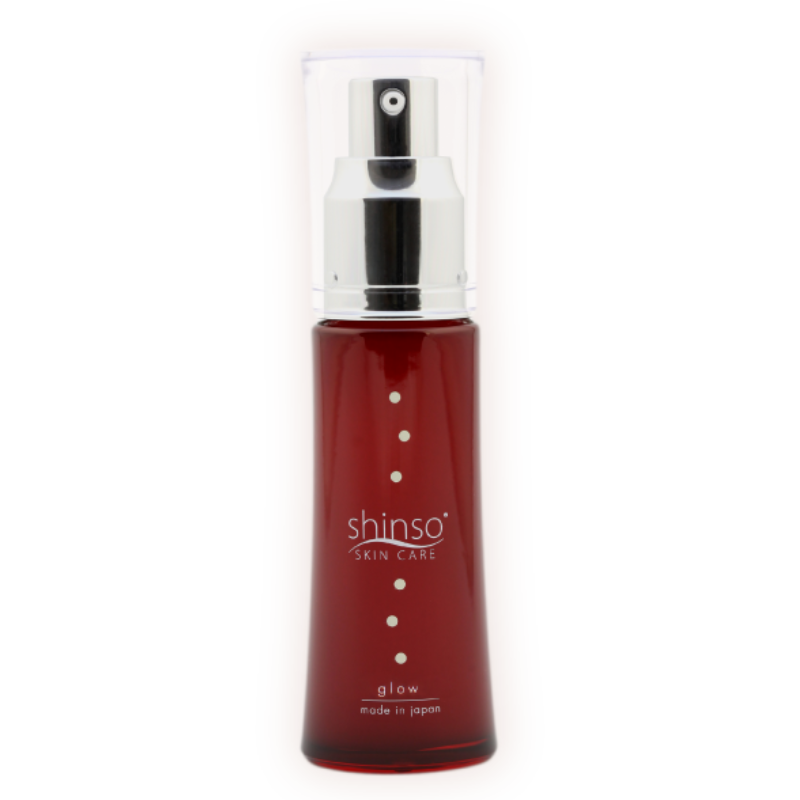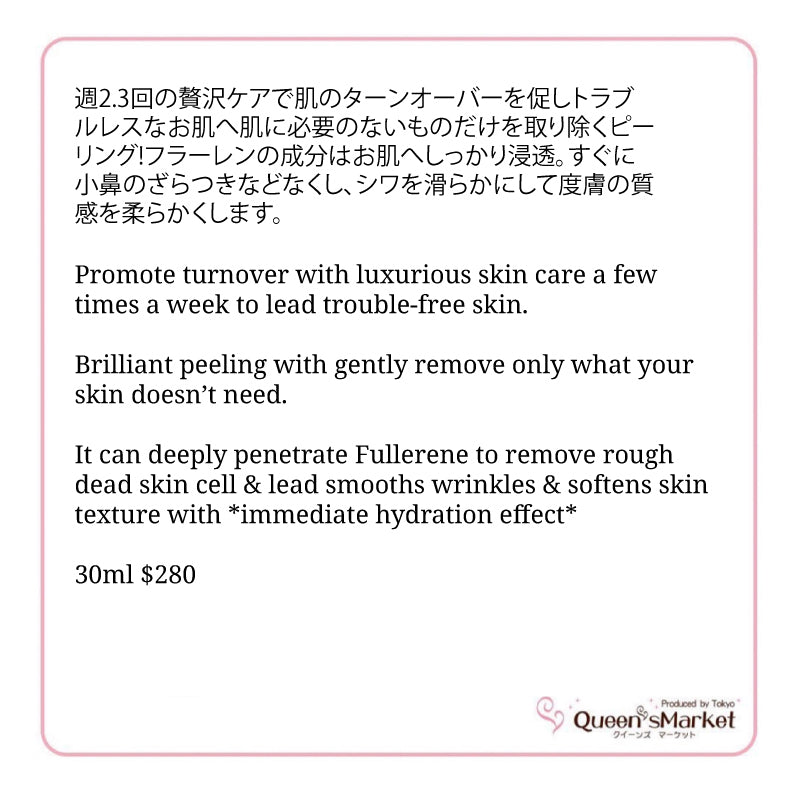 Absolutely will recommend them to my dear friends!
I am a busy mom and I don't have much time to take care of my skin. I have had serious problem with my oily skin. I frequently had breakouts and it was really frustrating. One day I came across Queensmarket on Instagram. The customer reviews were pretty impressive so I decided to book an appointment with them.
As they said on Instagram, all of their therapists are Japanese and they are very professional and kind.
I have tried the Shinso facial treatment and I was very surprised with the result. It made my skin brighter and visibly soft. I can't believe it myself. I sometimes forget to apply moisturizer on my face but my skin still feels good. Almost no hard selling. Highly recommend !