Regular price
$426.70 USD
Regular price
Sale price
$426.70 USD
Unit price
per
Sale
Sold out
【SHINSO】
 "SINSO SKIN CARE" is the highest quality of aging care cosmetics that is featured worldwide.
Unique antiaging care ingredients are newly researched and developed.
Power of SSE (Shinso Synergy Effect)
1. 
Nobel Prize-winning invention Fullerene, an 
antioxidant beauty ingredient
2. 
Nobel Prize-winning invention EGF, 
a cell-producing component
3. 
Deep sea water in Japan More than 60 kinds of deep mineral water
4. 
Reduces peroxidative cortex Antioxidant SOD enzyme
5. 
Natural ingredients from Japan, original blends of 70 kinds of natural herb 
extracts
What is fullerene?
A soccer ball-shaped substance that has the same carbon allotrope as a diamond and 60 carbon elements. It is said to have beautifying and anti-aging effects on the skin through the action of active oxygen removal.
It has an antioxidant effect that is 100 times stronger than vitamin C, a collagen production effect that is 800 times stronger than that of the placenta, and a skin beautifying effect and barrier function enhancement.

Effect
This natural blend of 70 Japanese herbs and botanicals refines your skin's texture and leaves your face more radiant and youthful. ShinsoEssence works to repair and guard the skin against damaging free radicals by harnessing nature's most remarkable age-reversing nutrients: grapefruit peel, honey, Olea Europea(Olive) leaf extract, Morus alba root extract and Pueraria Mirifica root extract.
Shinso Essence's highly penetrating serum also contains four of nature's most effective salutary skin factors: Argireline(Acetyl Hexapeptide-8), SOD and two Noble Prize-winning discoveries, Fullerene and EGF (Epidermal Growth Factor).
How to use
Apply 3-4 pumps of Shinso Essence using light, upward strokes over the entire
face and neck area until absorbed. For optimal results, apply both morning and evening. Maybe reapplied throughout the day as necessary to tighten, revitalize and moisturize your skin. Works for your whole body too – apply liberally all over for more youthful-looking skin from head to toe.
If you have very sensitive skin, apply less liberally

Ingredients:
Water, butylene glycol, glycerin, sorbitol, pentylene glycol, fullerenes, Sh-oligopeptide-1, Acetyl hexapeptide-8, dipotassium glycyrrhizate, hydrolyzed collagen, sea water, kassou ekisu(JTN), citric acid, soluble collagen, bentonite, citrus grandis(grapefruit)peel extract, honey, polyglyceryl-10 oleate, allatoin, sea salt, sodium pca, 6-aminocaoroic acid, inositol, coffea arabiva(coffee9seed extract, chondrus crispus(carrageenan), sodium citrate, PVP, rose canina fruit extract, chondrus crispus(carrageenan), Dextrin, taurine, oryza sativa(rice)bran oil, panax ginseng root extract, hydrolyzed yeast extract, glycine, glytamic acid, mannitol, pyrus malus(apple)fruit extract, aloe barbadensis leaf extract, alanine, lecthin, lysine, threonine, thymus vulgaris(thyme)extract, hydrochloride, morus alba root extract, royal jelly extraxt, glycyrrhiza glabra(licorice)leaf extract, arginine, leucine, histidine hydrochloride, valine, Pueraria lobate root extract, glycosphingolipids, sodium aspartate, isoleucine, betaine, proline, phenylalanine, oueraria mirifica root extract, chlorella vulgaris extract, tyrosine, disodium inosinate, disodium guanylate, phenoxyethanol.


【SHINSO】
'美の露出"を必要とする多くのハリウッド俳優やメイクアップアーティスト、美容外科医等から愛される、世界から注目されるエイジングケア化粧品の最高峰"SHINSO SKIN CARE"
アメリカ、英国の美容外科クリニックおよび、5星ホテル、5星スパ、海外の高級デパートで使用されている信頼と安心の商品です。
5つのアプローチから生まれるSSE(シナジーエフェクト)のパワー、絶妙な配合バランスにより新たに研究開発された独自のエイジングケア成分。
SSE(シナジーパーフェクト)のパワー
ビタミンCの100倍を超える抗酸化力、プラセンタの800倍ものコラーゲン
シミ・くすみ・ニキビ跡・色素沈着を改善する細胞産生成分
肌をフリーラジカルの損傷から保護
高い抗酸化作用と治癒持性
ハーブブレンドが、ハリとツヤのある肌を実現
※フラーレンとは
ダイヤモンドと同じ炭素同素体で、炭素元素60個が対象に配置された球場(サッカーボール状)物質。活性酸素などを除去する作用により、美肌効果や肌の老化防止効果があるとされています。
ビタミンCの100倍を超える抗酸化作用、プラセンタの800倍も強力なコラーゲン生成促進作用の他、美肌作用やバリア機能強化などの美容効果があります。
 
効果
70種類の日本産ハーブと植物エキスの絶妙なブレン「SSE(SHINSOシナジーエフェクト)の融合が特徴。
配合されているSOD(スーパーオキシドジスムターゼ)は、あらゆる老化現象=しみ・しわ・たるみ・毛穴の開きや肌トラブルの原因となる活性酸素を除去し無害化する抗酸化成分として、注目が高まっている酵素です。

使用方法
洗顔後、清潔な肌に適量を手に取り顔全体になじませます。肌への吸収率が高いため、すぐに肌になじませてください。その際、顎から頬、耳の付け根へ、また顔の中心から耳、こめかみの方へ下から上へと肌を引き上げるように指を滑らせます。
顔全体で3~4プッシュ分のエッセンスをご使用いただくと最も効果てきです。お客様の好みによって、使用量はご調整ください。
顔だけでなくデコルテや首、全身にもご使用いただけます。
Shinso glowでのお手入れ後にご使用いただくと、更に効果を実感していただけます。

成分
水、ブチレングリコール、グリセリン、ソルビトール、ペンチレングリコール、フラーレン、Sh-オリゴペプチド-1、アセチルヘキサペプチド-8、グリチルリチン酸二カリウム、加水分解コラーゲン、海水、 褐藻エキス(JTN)、クエン酸、可溶性コラーゲン、ベントナイト、柑橘類グランディス(グレープフルーツ)果皮抽出物、蜂蜜、オレイン酸ポリグリセリル-10、アラトイン、海塩、pcaナトリウム、6-アミノカロイン酸、イノシトール、アラビバコーヒー(コーヒー9種子抽出物、トチャカエキス(カラギーナン)、クエン酸ナトリウム、PVP、イヌバラ果実抽出物、コンドラスクリスプ(カラギーナン)、デキストリン、タウリン、コメヌカ油、高麗人参根エキス、加水分解酵母エキス、グリシン、グリタミン酸、マンニトール、リンゴ果実エキス、アロエベラ葉エキス、アラニン、レクチン、リジン、スレオニン、タイムエキス、塩酸塩、白葉根エキス、ローヤルゼリーエキス、グリチルリザ・グラブラ(甘草)葉エキス、アルギニン、ロイシン、塩酸ヒスチジン、バリン、プエラリア葉酸根エキス、スフィンゴ糖脂質テ、イソロイシン、ベタイン、プロリン、フェニルアラニン、ウエラリアミリフィカ根抽出物、クロレラエキス、チロシン、イノシン酸二ナトリウム、グアニル酸二ナトリウム、フェノキシエタノール
"SHINSO SKIN CARE",是全球最优质的抗老护肤品。
最新研发的独特抗衰老护理成分。
SSE的力量(Shinso Synergy Effect)
诺贝尔奖得主富勒烯,抗氧化美容成分

诺贝尔奖获得者发明

EGF

,细胞生成成分

日本深海水域

60

多种深海矿泉水

减少过氧化皮层抗氧化酶

SOD

来自日本的天然成分,

70

种天然草本提取物的原始混合物
什么是富勒烯?
一种足球状物质,具有与钻石相同的碳同素异形体和60种碳元素。据说它通过活性氧清除作用对皮肤具有美容和抗衰老作用。
它的抗氧化作用是维生素C的100倍,胶原蛋白生成作用是胎盘的800倍,具有美容皮肤和增强屏障功能。
效果:
这款由70种日本草本植物和植物精华混合而成的天然护肤品,可以改善肌肤质地,让你的脸更加容光焕发,焕发青春活力。Shinso Essence通过利用自然界最显著的逆转衰老的营养素(葡萄柚皮、蜂蜜、橄榄叶提取物、桑椹根提取物和葛根提取物)来修复和保护皮肤免受自由基的损害。
Shinso Essence的高渗透性血清还包含四种自然界最有效的有益皮肤因子:阿吉林(乙酰六肽-8)、SOD和两项诺贝尔奖获奖发现,富勒烯和EGF(表皮生长因子)。
如何使用:
用3-4泵Shinso精华液轻轻向上涂抹整个面部和颈部,直至吸收。为了获得最佳效果,早上和晚上都可以使用。如果需要,可以全天重新涂抹,以达到紧致、充满活力和滋润的肌肤。此精华液也适用于您的整个身体——从头到脚自由涂抹,让肌肤看起来更年轻。
如果您的皮肤非常敏感,请少量涂抹。
成分:
水、丁二醇、甘油、山梨醇、戊二醇、富勒烯、Sh-寡肽-1、乙酰六肽-8、甘草酸二钾、水解胶原蛋白、海水、kassou ekisu(JTN)、柠檬酸、可溶性胶原蛋白、膨润土、柚子皮提取物、蜂蜜、聚甘油-10油酸酯、尿囊素、海盐、pca钠、6-氨基甲酸、肌醇、,小粒种咖啡(Coffee9种子提取物、酸菜脆(卡拉胶)、柠檬酸钠、PVP、玫瑰果提取物、酸菜脆(卡拉胶)、糊精、牛磺酸、米糠油、人参根提取物、水解酵母提取物、甘氨酸、谷氨酸、甘露醇、苹果果提取物、芦荟叶提取物、丙氨酸、赖氨酸、赖氨酸、苏氨酸、,百里香提取物,盐酸,桑椹根提取物,蜂王浆提取物,甘草叶提取物,精氨酸,亮氨酸,组氨酸盐酸盐,缬氨酸,葛根提取物,鞘糖脂,天冬氨酸钠,异亮氨酸,甜菜碱,脯氨酸,苯丙氨酸,欧瑞香根提取物,小球藻提取物,酪氨酸,肌苷酸二钠,鸟苷酸二钠,苯氧乙醇。
View full details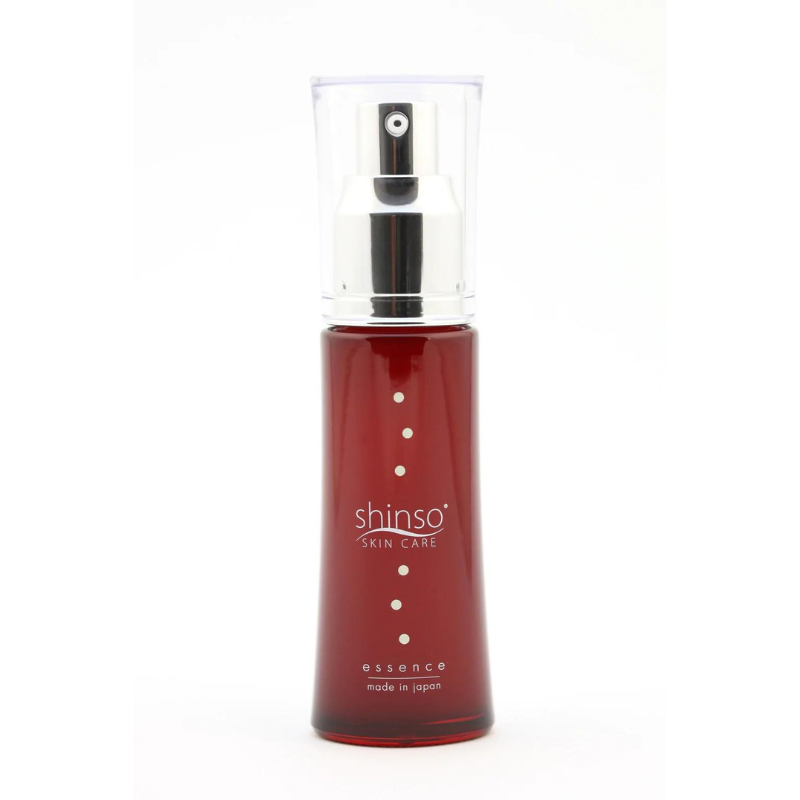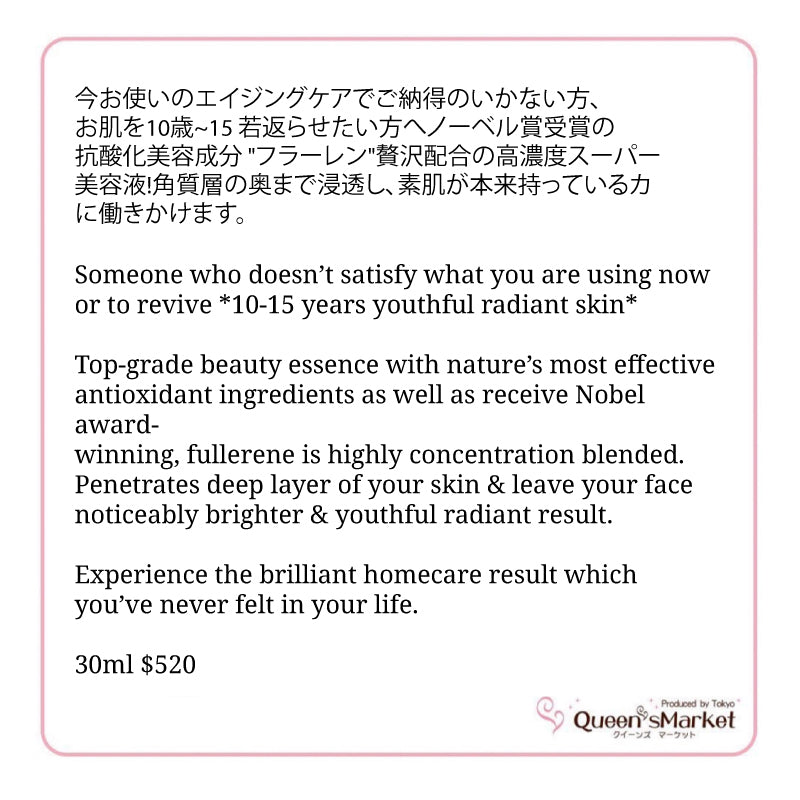 Beenusing this on my sensitive skin
i have active lives so any redness or puffiness after a procedure if not acceptable. I have started using Shinso after injectables and Botox as I find it helps eliminate any inflammation so that i can return to my hectic schedule without downtime.
Been using this after my laser!
I have been using Shinso essence after laser treatments. It helps rejuvenate the my skin quickly. I am so happy with the product as i have continued to use it even when i am not having a laser procedure.
My doctor recommended me.
My skin doctor recommended me Shinso, as it is a breakthrough line that integrates the benefits of natural healing with the application of topical skincare. The products create an immediate visual result that is illuminating to me wanting a noticeable difference in my skin with minimal effort. And because of the precise selection of natural ingredients Shinso is comprised of, the long-term effects of product use will continue to create the lift and glow all skincare patients hope to achieve
Product definitely recommended!
I recommend Shinso Essence for all of my patients that are concerned with skin laxity. The combination of soothing botanicals and deionized water provide an immediate calming and rejuvenation of the skin. No other product comes to the immediate and long term lifting effect of Shinso
Shinso Essence
Shinso Essence has calming properties on the skin after the injection of fillers, botox and minor skin treatments. There is a visible reduction in swelling and bruising after placing Shinso Essence on the skin.
Shinso Essence is truly an innovative skin care product with remarkable skin rejuvenation properties. There are instant visible skin tightening effects with smoothing and improvement in the texture of the skin. Shinso Essence also has significant long term rejuvenation benefits as well. I strongly recommend Shinso Essence for any skin type to beautify the appearance of the skin.